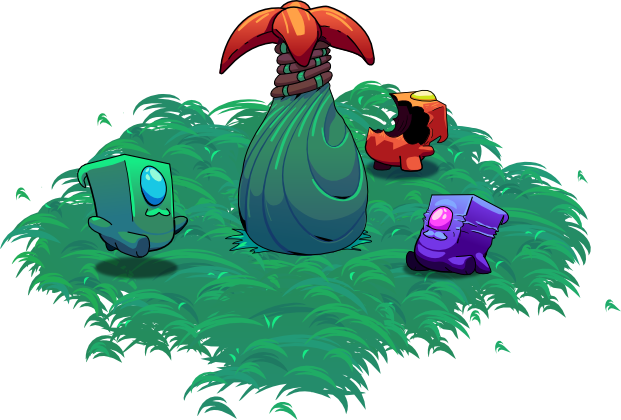 Fields of Goop (FoG)
The Goops are back in this multiplayer experience full of bite!
Made in a weekend for the Butterscotch Shenanijam, theme DNA Chaos
Become a sentient Goopling in this action MMORPG! Run across the wilderness, chomp down Bottletrees, Pinetatoes, Devilfingers, Brainstems, and other players in order to find MUTAGEN. Store Mutagens in your body to increase your power and chow through stronger and stronger plants... as well as other players.
But be careful - when you die you'll spill your mutagen on the ground, leaving it for other Gooplings to find. Gather your friends and heal one another to survive in this BITE-AL ROYALE! harharhar
DEPRECATION WARNING: Fields of Goop is no longer playable. The web technology that it relies on is no longer compatible with FoG, and so we have removed the download option. If you already have a copy of it, just know that there will be no server for you to connect to (in other words, the game won't work!).
CONTROLS
WASD for movement
Click to Target
1 for Bite, 2 for Heal (when friend is targeted), 3 for teleport to map center (in case you get lost out there)
SPACE for jump, X for plop
Click drag to remove Mutagen from yourself
Bite mutagen to get it into your bodeh
FEATURES
Open, infinite world with multiple kinds of vegetation
Charmingly animated Gooplings
Stat numbers that just keep getting bigger
Discord rich presence - that's right, let your pals know which Goopling tribe you belong to, and hop into the Butterscotch Discord to gather up!
An arena smattered in goopling viscera
Jam Achievements
INNOVATION! - Your game is a battle royale
Buttersmooth tools - Make games the bscotch way: inkscape for art, gamemaker for game.
Mozart - compose your own music (Music and SFX by Fatbard)
Persistent Universe - Something about your game lives online, and every player can affect it.
Franchise - Make a sequel or shared-universe game to your previous Shenanijam entry (Goop Legacy)
Fourwheeler - Your team size is 4.
| | |
| --- | --- |
| Status | Canceled |
| Release date | Jul 14, 2019 |
| Rating | |
| Author | Butterscotch Shenanigans |
| Genre | Action |
| Made with | GameMaker: Studio, Inkscape |
| Tags | 2D, battle-royale, Cute, MMORPG, Multiplayer, shenanijam |
| Average session | About a half-hour |
| Languages | English |
| Inputs | Keyboard, Mouse |
| Multiplayer | Server-based networked multiplayer |
| Links | Community, Podcast, Twitter |